How to Use Twitter –  A Primer for Writers, Artists and all Creative People (May 2016) by Robin Houghton is the first ebook in a series aimed at making social media simple.
Robin Houghton really knows her stuff. I highly recommend her books to writers who want to learn to use social media.

– Anne R Allen, bestselling author, blogger and Writers Digest contributor
Available in both Kindle ebook versions and PDF download.
How to Use Twitter – Kindle version
Buy Kindle version now on Amazon $4.99
How to Use Twitter – PDF version
PDF, 40 pages. Published May 2016, updated February 2017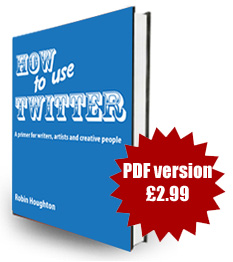 PDF version £2.99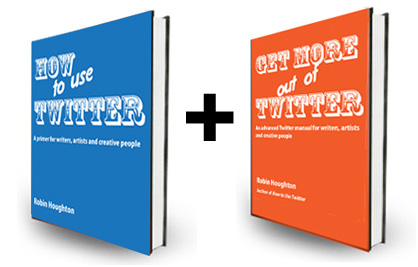 Special Offer – Combined purchase – PDF versions of both 'How to Use Twitter' and 'Get More Out Of Twitter' just £4.99
DOES ANY OF THIS SOUND LIKE YOU?
"I know I should be using Twitter but don't know where to start – or if I really want to at all!"
"I  know publishers expect authors to be on Twitter, but I've no idea how to build a following there…"
"I've tried Tweeting but didn't really get it…"
"Nobody wants to read what I had for breakfast!"
If you're a writer, artist or any kind of creative person who's never used Twitter, or you tried it for a while then lost enthusiasm, then How to Use Twitter is for you.
Writers are frequently frustrated by Twitter's steep learning curve or feel they're not effectively using the platform. Robin Houghton's primer of actionable tips with easy-to-follow illustrations shows how best to use this powerful networking tool.

– Elizabeth Spann Craig, author, expert blogger and Tweeter
I'M A WRITER. WHY SHOULD I BE USING TWITTER?
We constantly hear how publishers and agents expect authors to be active on social media channels, reaching out to their readers and potential readers and marketing themselves via a blog, or on Facebook, Pinterest and Twitter.
Journalists frequently rely on Twitter as a search engine when they are sourcing experts and ideas for articles.
For many of us, the idea of MARKETING oneself is not appealing.
The good news is that if you are using Twitter effectively, the way you will learn in this book, you won't feel like you're doing any marketing at all.
What you WILL be doing is discovering and having conversations with people who want to read or publish your work, people who can help you with research, with getting published, with promotion, people who are interesting, engaged and on your wavelength.
Robin Houghton is that rare thing, an expert who can communicate her expertise!

– Sandy Hutchinson Nunns BA; MA; ATAP; Dip.TA Psych.; Dip.Fem.Theal.; Fellow, Institute for Learning; MBACP (accred)  Psychotherapy, Counselling, Reflexive Writing
I'M NOT A WRITER. IS THIS EBOOK ANY USE TO ME?
Absolutely. The book is aimed at anyone who would (honestly) rather be creating. The knowledge in How to Use Twitter is invaluable to anyone wanting to make the most of the platform without wasting precious time on it.
IS THERE A MAGIC FORMULA TO SUCCESS?
There's nothing magic about doing Twitter right, enjoying all the benefits it offers and integrating it easily and stress-free into your daily routine.
BUT there are certain things you need to know from the start, rules to follow (written and unwritten) and a number of factors that DRASTICALLY affect the quality of your Twitter experience.
Your Twitter advice was the best I've had!

– Julia Lee, author
DO I NEED TO READ A BOOK TO TELL ME HOW TO USE TWITTER?
The question is – how precious is your time? If you want to be a Twitter ninja WITHOUT it eating into your creative time then all you need is the knowledge contained in How to Use Twitter.
By reading the ebook you'll understand from the start WHAT you should be doing, HOW to do it and most importantly WHY you need to do it.
Robin took the fear out of Twitter gave me the confidence to use it much more effectively. Thanks to Robin's help, I feel I understand Twitter much more clearly and my followers are continuing to grow.

– Ruth Hayhurst, journalist
There are screenshots, clear and simple instructions, real examples and useful resources to follow up.
Stop wasting your time fiddling around with Twitter and wondering why it's not working for you – once you've read this ebook you'll be streets ahead of 95% of Twitter users.
Newcomers to Twitter regularly make the same mistakes and rarely find out where they're going wrong. Wouldn't you like to know what those mistakes are?
This ebook comes out of nine years of almost daily Twitter use by its author. She has learned from her mistakes, so you don't have to learn from yours!
ManyTwitter accounts are abandoned within three months – don't let yours be one of them!
Brand new to Twitter? Then this ebook is gold dust. It will take you from newbie to a confident Twitizen in no time. And if, like me, you've had a lukewarm relationship with Twitter so far, this ebook is a revelation. Writers, creative people–in fact anyone who wants to get the best from Twitter–I think you'd be crazy not to read this first.

– Peter Kenny, poet, playwright and author
BUY NOW
Buy Kindle version now on Amazon $4.99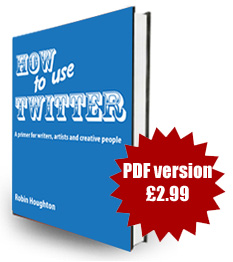 PDF version £2.99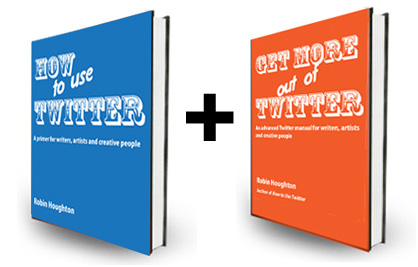 Special Offer – Combined purchase – PDF versions of both 'How to Use Twitter' and 'Get More Out Of Twitter' just £4.99